** Musician Kazumasa Oda and Promise of Christmas **
Kazumasa Oda (小田和正) is one of my favorite Japanese musicians. Recently he was on a TV show for the 9th year of his Christmas special live concert program called "Promise of Christmas(クリスマスの約束) 2009". I'm a big fan of this program- I still have previous year's ones in my HD/DVD recorder.
Not only do I like Oda-san's music and vocal, but also the way he interacts and works with the young musicians. He's an old guy at the age of 62... but he invited young musicians in their twenties to create a new song together and join his concert to perform. He also invited other older musicians (oldest one in his sixties) to join the concert as well. They were trying to perform a 22.5 minute long medley with various musicians which was really intense because they are all very busy and yet they have to memorize so many songs and find time for rehearsals. The medley was amazing. The applause from the audience didn't stop for 4 or 5 minutes and Oda-san said it was the longest applause he had ever experienced.
** CD sales and other ranking "numbers" in Japan **
If you look at the
singles sales ranking by Oricon
, you can see that out of this year's top 10, 4 was by Arashi - "idols" of Johnny's Entertainment. KAT-TUN and Kan Jani ∞ are both Johnny's idols and Yusuke is originally a comedian. Where have the artists gone from the sales ranking...?
Let's look at the album sales ranking by Oricon.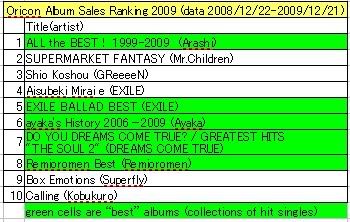 It looks like we have more "musicians" here, but the problem is that half of the top 10 selling albums are so-called "best albums" which is not a collection of new songs but a collection of old hit songs.
Karaoke ranking indicates that ALL of top 10 songs that were sung at Karaoke were music that were released before 2009.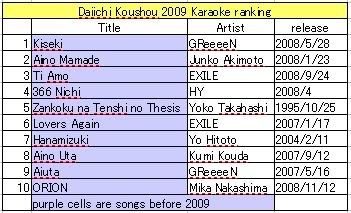 Another problem I see here is that even the best selling single CD this year sold only 656,676 pieces (please refer to the spreadsheet at the top).
Following is the list of top 50 best selling singles and as you can see, most songs are released before 2000. With the exception of "Sekai de Hitotsu dake no Hana" by SMAP in 2003, all of the songs in the top 50 selling list are released on or before 2000.

It is said that the taste of music has become varied compared to the past when everyone was listening to the same kind of music, and thus it is difficult to make mega hits.
** Music programs on TV shows **
One more thing I recognized about the music industry nowadays is that TV shows stopped featuring new songs and new artists- instead they are showing old rankings and old (and famous) musicians. In the past, there were TV programs like "Best10" and "Top10" which were featuring that weeks' best selling music, but those shows have disappeared. One of the music TV shows that survived- "Hey Hey Hey Music Champ" used to show newest music and artists a couple of years ago, but recently they started to focus on older music (they show ranking from older years, ranking with themes like Christmas songs or party songs or sad songs etc which end up showing older and famous songs). It's probably a chicken and egg problem- because they can get more people to watch the show by showing older songs than new ones, they started to focus on the older songs which would deprive new artists to be on TVs which (at least to me) seems to be creating a vicious cycle.
New artists are not seen in TVs and chances to be known by the audience decreased, therefore people don't buy new songs by new artists but buys stuff like "best albums" which is basically older songs and sings old and famous songs at karaokes.
But probably this logic applies only to the older generation which watches TVs, goes to karaoke and uses PC. Younger generation in Japan are said that they don't watch TVs, don't go to karaoke and use mobile phones.
It is said that younger people are not buying packages (except for the idol lovers who wants to show their love to the idols by purchasing their products) instead people are getting music by digital downloading, and many of them are using illegal music download / sharing system, also young people don't use PC but rather use mobile phones for their online activities.
** What kind of music young Japanese are listening to **
Let's look at data from
Music.jp Chaku Uta (ringtone for mobile) Download ranking
.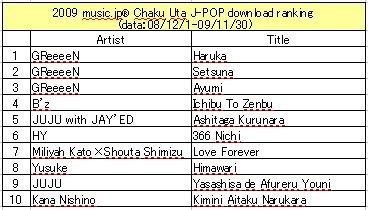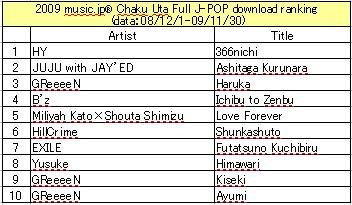 So these are the music that the younger people are listening to- and they do have new singers and songs like GReeeeN, JUJU and Kana Nishino. It's clearly different from what people are buying at
HMV online sales ranking
as follows:
OH and one more important metrics is USEN (cable broadcast) request ranking. USEN usually pops up new artists that are not yet well known.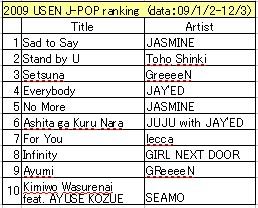 ** Decline in music sales- in Japan and US **
The decline in the sales amount and sales revenue is not only in Japan- it looks like the tendency is bigger in U.S.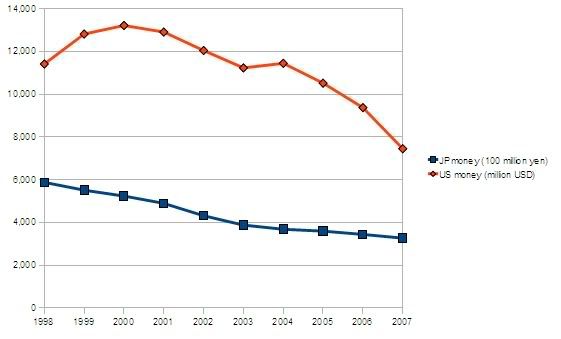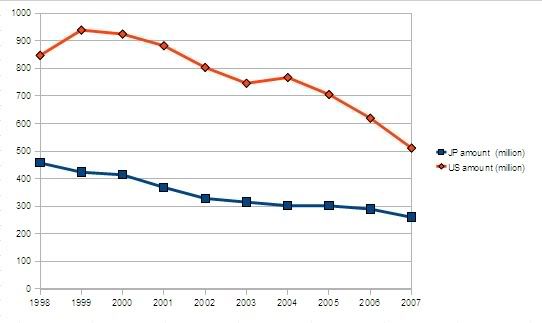 Data source (JP production
amount
JP production
value
US shipment
amount
US shipment
value
via
Takerunba blog
)
** New music business models in Japan **
There are various new ways to inform, promote and sell music in Japan although they all still look experimental and not scalable yet.
1) Utilization of video sharing sites, allowing fans to remix and increase fan base that would pay
One is via websites especially video sharing sites such as NicoNicoDouga and YouTube.
Susumu Hirasawa
, an artists talks at an
interview with ASCII [ja]
. He focuses on internet for his promotions / sales and is increasing sales recently despite the decline of the industry as a whole. He doesn't do any of the standard promotions that other musicians do- he doesn't visit publishing companies or broadcast stations to get exposure. "I'm not well-known but I get more CD sales, more fans comes to my live performances than other musicians. I get request for live performances from overseas and you can find my name even in Pharsi Wikipedia."
People gets to know his music via sites like NicoNicoDouga and starts to create remix music and video and uploads to NicoNicoDouga again- and he doesn't delete them. He lets his fans remix. His DVDs does not have copy protection because he knows the listeners would copy it anyways. He is one of the rare musicians who knows how to interact with his fans and at the same time make a business model there.
It is very similar to what is happening in Hatsune Miku and other Vocaloid series where artists who created music using Miku would distribute MP3 files for free, and lets people create remix music/videos, does not register their music to JASRAC even after major music label debut so that the fans can still use those music for remix because they know that the reason why they became successful is because the fans made remixes and made them famous. Even if the music is available for free, fans still buys the CDs when they see them because they want to support the creators and they know the artist will not gain any revenue from the free MP3s files and yet they are making them available. When the artists start to lock up their music or withdraw the free versions and start charging them, backlash happens. This phenomena is called "kencho" meaning hatred towards business makers.
2) Collaborate with mobile websites that the young people are using
Another interesting promotion example is how Kana Nishino's
song
was collaborating with Cell phone novels. As I wrote in
this post
, teenagers nowadays reads cell phone novels a lot. The novel and Nishino's song both had long-distance love as the theme and the song became a big hit among the youngsters.
3) Animations are a great touching point with large audience
I also think it is interesting that Japanese animations that are popular worldwide might take a role in music industry too. When I was visiting Chile, I met a university student that told me she is a big fan of a Japanese singer called Hyde. She (and her friends) would have never known about Hyde or his band L'arc en Ciel if their music was not used as a theme song of a popular animation, but because of that she is now a big fan of Hyde and buys all the CDs, goodies that she can find. She can sing songs of L'arc in Japanese, she translated and made Spanish versions too. She became interested in J-POP ever since, and told me that she is going to a concert of Dir en Grey -another Japanese band- as they are visiting San Tiago for a concert tour. Should we say this is just a rare example or should we say this is tip of iceberg and there is a big potential...?
** Lack of megahit will impact Japanese culture? **
I think the lack of mega hit might impact culture to some extent- people will not have a common song that they all know and can sing together after years.
Music has a power to bind people together- I was travelling in Bolivia a couple of months ago with strangers - Slovenians, Bolivians, German, Spanish and me(Japanese). The first thing that bound us all together was when we had "Billy Jean" by Michael Jackson as BGM on a car and everyone started singing. I think the songs in the top 50 list above are sort of like that for the Japanese. But with the current situation where there is less music being sold, there is a generation gap in what music people listens to... it would be difficult to have such experience.
** Hoping for better artists and music to appear- that will last for years **
Getting back to Oda-san, I think the way he invited artists aged twenties through sixties, creating a music together and performing together with them would be a great experience for the young artists as well as the viewers of that TV program, and I am so happy he's doing that, and I am hoping that there will be more new and wonderful songs that would be a favorite of lots of people and would last for years to come :)
Update on 2012/12/30
Unfortunately, it's getting worse.
Oricon yearly CD sales ranking
, literally dominated by AKB and its sister groups (
red cells
, girls idol groups) and Johnny's entertainment groups (
yellow cells
, boys idol groups).
One thing to note about this ranking is the "bonus" part- most CDs are accompanied by "shake hand ticket" with the artists (girl idols). This may seem funny, but it's important for young boys- my niece who was a junior high school student was one of those boys who bought the ticket and happily went to Makuhari Messe for the first time in his life, to shake hands with those girls. I have heard that some people who wants to shake hands buys multiple CDs and throws them away.
マンションにAKBいっぱい捨ててあった笑 twitter.com/osupiii/status…
— おすぎやん (@osupiii) May 25, 2012
AKBのCDがゴミ捨て場に捨てられている(笑) twitter.com/narita8888/sta…
— だん♡だん (@narita8888) May 28, 2012
The other aspect about this is they sell several versions of same CDs (as you can see in the types column, all of the top20 CDs has multiple version).
Update on 2016/12/27
Oricon yearly CD sales ranking
, dominated again by AKB and its sister groups (
yelllow cells
, girls idol groups) and Johnny's entertainment groups (
green cells
, boys idol groups).
1位 : 翼はいらない
AKB48
推定累積売上数:1,519,387
2位 :君はメロディー
AKB48
推定累積売上数:1,294,962
3位 :LOVE TRIP/しあわせを分けなさい
AKB48
推定累積売上数:1,213,660
4位 :ハイテンション
AKB48
推定累積売上数:1,202,533
5位 :サヨナラの意味
乃木坂46
推定累積売上数:910,811
6位 :裸足でSummer
乃木坂46
推定累積売上数:851,229
7位 :I seek/Daylight
嵐
推定累積売上数:828,533
8位 :ハルジオンが咲く頃
乃木坂46
推定累積売上数:828,315
9位 :復活LOVE
嵐
推定累積売上数:541,121
10位 :Power of the Paradise
嵐
推定累積売上数:471,619
11位 :二人セゾン
欅坂46
推定累積売上数:467,845
12位 :世界に一つだけの花(シングル・ヴァージョン)
SMAP
推定累積売上数:439,774
13位 :世界には愛しかない
欅坂46
推定累積売上数:392,719
14位 :サイレントマジョリティー
欅坂46
推定累積売上数:376,871
15位 :チキンLINE
SKE48
推定累積売上数:365,328
16位 :僕はいない
NMB48
推定累積売上数:363,583
17位 :最高かよ
HKT48
推定累積売上数:332,231
18位 :金の愛、銀の愛
SKE48
推定累積売上数:324,415
19位 :真剣SUNSHINE
Hey!Say!JUMP
推定累積売上数:308,610
20位 :74億分の1の君へ
HKT48
推定累積売上数:305,137
21位 :罪と夏
関ジャニ∞
推定累積売上数:300,357
22位 :甘噛み姫
NMB48
推定累積売上数:296,753
23位 :Sha la la☆Summer Time
Kis-My-Ft2
推定累積売上数:291,356
24位 :Fantastic Time
Hey!Say!JUMP
推定累積売上数:288,361
25位 :Gravity
Kis-My-Ft2
推定累積売上数:238,550